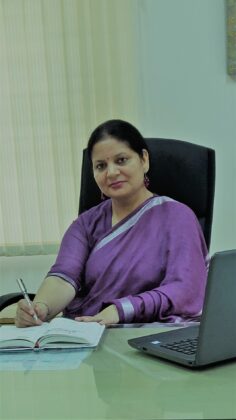 "Enjoying success requires the ability to adapt. Only by being open to change will you have a true opportunity to get the most from your talent." -Nolan Ryan
Dear Edify Family,
Greetings!
It is truly an honor and a matter of pride for me to have the opportunity to serve the school with such a rich tradition of education as an In Charge Principal. I am excited and thrilled beyond words to work with an outstanding staff who have continued to work with due deliberation during these hard times of the pandemic to ensure a smooth transition for our students.
As the In Charge Principal, I assure you all, that we will continue to provide our students the best and one ready to meet the challenges in a positive and nurturing environment. In-person or remotely from home, our goal is to provide our students the best learning environment and maximize student engagement.
I am confident that EDIFY shall always be a beacon of light guiding the destiny of its students, while radiating kindness and compassion as it soars high in its pursuit of academic excellence & fulfilment of the school motto and the vision of VVNT.
Edify School Kanakapura Road is eager, excited and all set to begin the new academic session. We appreciate your support and look forward to continuing our partnership to overcome any obstacle in such uncertain times.
I also take this opportunity to thank our committed & supportive management, dedicated teachers; caring and co-operative parents who blend harmoniously, to create a learner – centric school.
Best and warm wishes for the future.
Neelam Sharma.