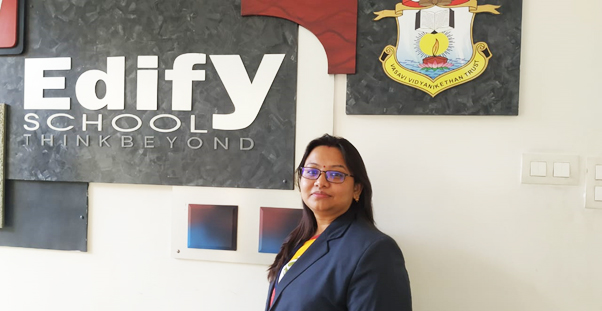 ( Academic Administrator MSP )
"EDUCATING THE MIND WITHOUT EDUCATING THE HEART IS NOT EDUCATION AT ALL" – Aristotle
Schooling is the first contact for the children with the world. It is the pathway to understand the values, enhance the skills and imbibe the profiles.
We at Edify School are committed to create and foster an environment of excellence in learning. We make certain that the students are provided with a platform to showcase, explore, and develop their talents but also enhance their creativity and innovation.
The high spirit, positive attitude, diligent work, sustained efforts, and innovative ideas exhibited by our young Edifiers will create the benchmark in the community.
Meticulously planned and well balanced Edify curriculum to ensure that the children who walk into the portals of our school will imbibe the skills and values to face challenges with a positive attitude.
Our motto is not only to pursue academic excellence but also to empower our students to be problem solvers and risk-takers. Each of us is committed to providing the best possible environment for the healthy development of a child who grows and learns naturally.
I also take this opportunity to thank the parents of our students for having bestowed their faith and confidence in us.
I wish all the Edifiers good luck!!!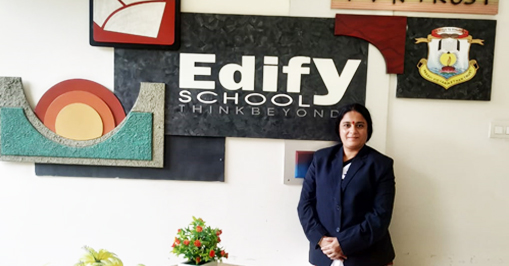 ( Academic Admin – Pre Primary & Primary )
"CURIOSITY LEADS EXPLORATION AND EXPLORATION OPENS THE DOORS TO INNOVATION'.!"
A plant in a dark room will grow in the direction of sunlight" likewise students venture out for right pathway to find the ray of knowledge so that they reach the desired goal. Edify believes that success of students depends upon their power to perceive, the power to observe and the power to explore. With unique 3C Curriculum, Edifiers are always empathic to share and care, energetic to push the boundaries, inquirer to create the hypothesis and conclude, curious to explore.
The right blend of hand holding and leaving free will make the child confident and secure. The facilitators not only nurture the thoughts and views of our children but they also emphasize on expression of interest of each child. This enables each child to imbibe right skills and values with positive attitude for the bright future.